The Political Discussion Happening Around Refugees: #Yalla2016 Day 1 Luncheon
Posted by Kristin Mccarthy on October 28, 2015 in Blog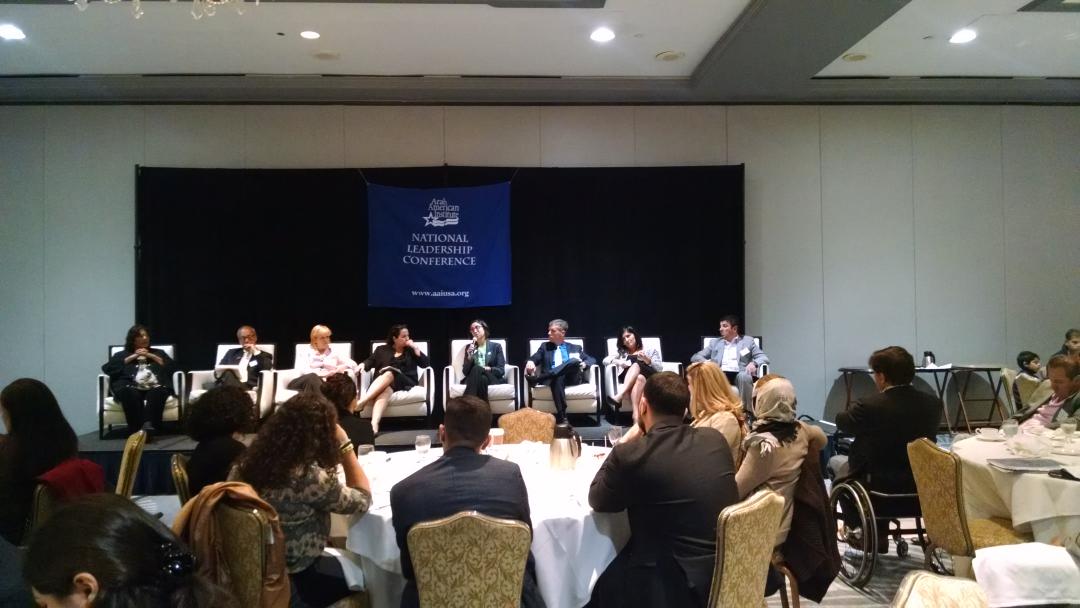 In continuing the discussion on Syrian refugees, AAI hosted a luncheon discussion featuring representatives from the State of Michigan's government, local Michigan non profit organizations, and national organizations all working to resettle Syrian refugees in Michigan communities.
Executive Director of the Arab American Institute, Maya Berry, began the panel by introducing Lavinia Limon of the U.S. Committee for Refugees and Migrants who offered a historical context of refugees coming into the U.S. In the 1980s, the U.S. was welcoming upwards of 370,000 refugees a year so a pledge of 10,000 from the Obama administration is not at all close to what the country is capable of doing.
Deborah Drennan of Freedom House built on this need for better administration response by advocating for changes to the asylum process, which currently takes at least three years and leaves asylum seekers in detention centers and penniless.
Hoping to change this Michigan Governor Rick Snyder whose Director of the Michigan Office for New Americans – Bing Goei – spoke about how Michigan is a state that is ready to welcome refugees, with or without federal resources.
Christine Sauve of Welcoming Michigan said that there are many cities in Michigan that are combating the national rhetoric of fear towards refugees by educating communities on the people coming in who can and will have a very positive impact on the cities.
Helping to ease the refugee transition into American society are people like Madiha Tariq of ACCESS who explained that thereneeds to be a focus not on those coming in, but those who have been here for twenty years and have transformed communities for the better.
Martin Manna of the Chaldean American Chamber of Commerce spoke about how his community has worked to welcome Syrian refugees in the Detroit area. The Chaldean community has helped by providing language services, helping refugees find jobs, and healthcare. Mr. Manna also highlighted part of the problem with the U.S.'s resettlement process, he's staff has seen refugees apply for resettlement and/or asylum and receive interview dates in 2022, over 7 years away.
Also advocating for a change in perspective was Michael Mitchell of Lutheran Immigration and Refugee Service who encouraged us to change the dialogue to include the positive economic impact that refugees have on communities. From these leaders in refugee services, we know more specifically about how we can change our local communities to be better examples welcoming refugees.